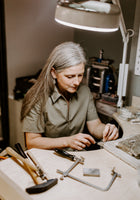 HELLO AND WELCOME
It's common for people to ask me why I became a jeweller, and I reply honestly:
"There is nothing that I value more than witnessing someone wear and enjoy my jewellery."
Everything that I have invested into the piece becomes justified.
My aim is not to make you beautiful by placing a necklace on your neck, but to enhance the beauty that already exists with an understated and effortless elegance, bringing out your confidence in a natural way.
If you can't find what you are looking for but like my style, send me a message, email or ring me, as I would love to make something special for you!
contact me